Here's a "final stretch" volunteering appeal I wrote for one of The Next Generation's successful political candidates, Dee Rosario for East Bay Regional Park Board.
---
Subject: The final stretch!
From: Dee Rosario for East Bay Parks
Date: November 5, 2016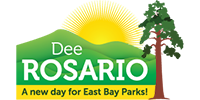 Dear Jason,
It's the final weekend before the election — time to get out the vote! I've been campaigning non-stop throughout Ward 2, and I need your help for a final push between now and Election Day:
Phone banking on Saturday from

11 am to 2 pm

and Sunday from

12 pm to 4 pm

at 1242 Holman Road, Oakland, 94610.
Monday from 5 pm to 7 pm we need volunteers to hand out flyers at BART stations.
Tuesday, go to your nearest Central Labor Council for the Get Out the Vote efforts. (If you let us know you'd like to help, we can direct you to the right location.)
Please sign up to volunteer here – it could make the difference between victory and defeat. If it's easier than filling out the form online, you can also contact Sharon Corkin, my volunteer coordinator, directly at (510) 555-5555 or at sharon.corkin@sampledomain.com.
I've been getting very positive feedback at events and at voters' doors about my campaign. But, in such an intense Presidential election year, many voters still don't know much about down-ballot campaigns like ours. That means that our efforts over the next several days are critical.
If you can't volunteer, you can still help spread the word:
Send an email (or forward this email) to your friends, family, and coworkers who live in Ward 2 and encourage them to vote for me. Feel free to use information from my campaign website at http://www.drosario4parks.com/. East Bay Regional Park Board Ward 2 includes Oakland, Piedmont, Canyon, Moraga, Orinda, Orinda Village, Rheem Valley, Lafayette, Rossmoor, and portions of Walnut Creek.
Spread the word on Facebook by liking my Facebook page and sharing a post or asking others to like it.
Text out the vote. Think of five people you know in Ward 2 and text them to tell them about me and to remind them to vote all the way down the ballot.
Make a last-minute donation and contribute to my efforts to reach voters online in the last days of the election.
Again, thank you so much for your support. I'm excited for the last few days of this race, and I appreciate all of your help as we approach the finish line together.
Sincerely,
Dee Rosario
Dee Rosario for East Bay Regional Parks 2016 | FPPC #1380772 | Alameda CA 94501
This email was sent to jason@sample.com. To stop receiving emails, click here.