Here's one of several emails I wrote for Dee Rosario, first-time candidate for the East Bay Regional Park District Board. Dee was victorious in November 2016 among a crowded field. I made sure to emphasize his East Bay Parks experience whenever possible.
---
Subject: Couldn't wait to tell you
From: Dee Rosario for East Bay Parks
Date: September 19, 2016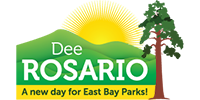 Dear Jason,
Just a quick note to let you know that this weekend I was informed that both the Alameda County Democratic Party and the Democratic Party of Contra Costa County endorsed my campaign! Add those to the many other endorsements I've received, and the ones that are still coming in, and I have great hope that I will be the next East Bay Regional Parks Board Member from Ward 2.
Just the other day, in fact, I was flattered when Assemblymember Tony Thurmond called me "the most qualified candidate [he'd] ever met." Those are words of high praise indeed. I have a feeling he was talking about my 37 years of leadership working tirelessly for the district in which I am now running to be a board member.
Unfortunately, my lifelong commitment to making East Bay Regional Parks safe, ecologically sound, and accessible to all does not mean I'm automatically going to win my race. I have several opponents on the already crowded Presidential ballot, and I've got to tell my story to as many voters as I can in Ward 2 in order to be elected.
As my core supporters, you've really kept me going. I can't thank you enough. Now there are barely more than seven weeks left before Election Day. To fund the strategies that will lead to a win I have to ask again: Can you make a donation to my campaign today? The limit in my race is $4,200, and whatever you can do up to that amount will mean a lot to me. And it will ultimately help determine whether I can put my experience to use as East Bay Regional Park District Board Member from Ward 2.
Thanks again,
Dee
Dee Rosario for East Bay Regional Parks 2016 | FPPC #1380772 | Alameda CA 94501
This email was sent to jason@nextgeneration.org. To stop receiving emails, click here.