Here's a classic blog entry that I would revise with helpful information for each statewide election; this is the 2014 general election version, which was accurate then.
---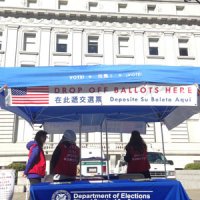 Election Day is tomorrow! We're excited, of course, but as in many midterm elections, turnout is expected to be low. That's why it's critical that every environmental voter gets out to vote. Here are a few helpful voting tips:
If you vote at the polls, you should have received information about your polling place on the sample ballot that was mailed to you. In some counties, you can also vote early (check with your county Registrar of Voters for times and locations). Polls are open from 7 am to 8 pm on Election Day.
Vote-by-mail voters: Even if you haven't mailed in your ballot, it's not too late to vote. Instead of mailing your ballot (it's too late for that), drop off your ballot at a variety of drop-off locations in your county, or, after polls open on Election Day, at any polling place in your county. (Your polling place is on the voter information packet you should have received in the mail, or you can find out through the Secretary of State's office. And, regardless of how the ballot is returned, it MUST be received by the county elections office by the time polls close at 8:00 p.m. on Election Day. Late-arriving vote-by-mail ballots will not be counted.)
If you lose your ballot or your official vote-by-mail envelope, you can go to the polls on Election Day and cast a provisional ballot, which will be counted when it is verified that you didn't vote by mail.
Finally, of course, don't forget to check CLCV's endorsements. Thanks for supporting environmental champions with your vote and your support for CLCV!
Written for the CLCV blog November 3, 2014 by Jason Gohlke, CLCV Communications Manager